System Requirements
New Eden should run smoothly on most hardware.
The build is Windows-only, but a Mac version is planned for the future.
We have servers in North America and Europe, so you may experience lag in other regions.
Servers will be expanded in full release, so please bear with us during the Alpha phase.
My Download is Not Working
Extract the ZIP as an administrator. Checking "Unblock" in Properties helps sometimes.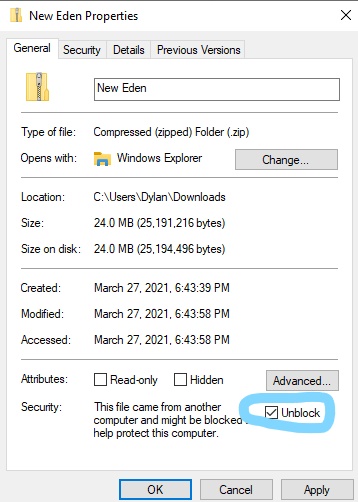 The install shouldn't take more than a couple minutes.
We are not yet popular enough to be recognized by certain Anit-Virus Softwares.
If your download or install gets stuck, try checking your Anti-Virus software and firewall settings.
If all else fails, deleting the files and re-extracting the ZIP sometimes helps.
Once the game is installed, just run the launcher to automatically update the game to the latest version.
More Questions or Concerns?
Join the New Eden Discord and chat with the Developers!
We crave your ideas and feedback, and can trooubleshoot any unique problems you might be experiencing!